gCaptain -
Brazil's navy on Thursday called off an operation to unload fuel oil from the damaged Vale Beijing large iron-ore transport ship due to unfavorable ocean conditions, Brazil's UOL online news service reported.
A fresh attempt to remove about 7,000 metric tons of fuel oil from the ship will occur in the near future, UOL said, citing Calmon Bahia, captain of ports of Maranhao state in Brazil's northeast, where the vessel was moored offshore.
The oil must be removed from the stricken vessel to reduce the risk of an oil spill, Bahia told the news service.
Vale Beijing, reportedly the world's largest iron ore carrier, and which has been leased to Brazil iron ore miner Vale SA, developed cracks in its hull on Dec. 3 while it was loading iron ore at Vale's Ponta da Madeira export terminal in Maranhao for export.
The vessel, which was on its maiden voyage, is owned and operated by South Korean company STX Pan Ocean Co.
The ship is still loaded with 260,000 tons of iron ore. The navy hasn't yet managed to remove the oil from the ship due to strong winds and tides which would make the operation unsafe, according to the UOL report.
After the oil is removed, an operation will start to unload the iron ore from the vessel, and only then will there be a decision on where the ship will be taken for repair, Bahia told the news service.
A Vale press officer in Rio de Janeiro referred enquiries on the matter to the ports captaincy, noting that Vale is neither the owner nor the operator of the vessel.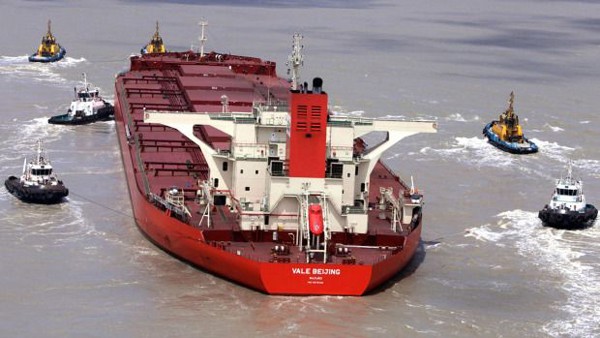 Posted via http://maritime-news.posterous.com Maritime-News posterous