Jamie Munks -
Tourists flock annually to Lake George, where they stay in hotels and visit local restaurants, shops and beaches, but the newest tourism venture may be below the water.
The village of Lake George is the lead agency on a pilot program that would preserve underwater historical resources across the state, such as the shipwrecks in Lake George, and promote them as recreational dive sites, creating an underwater "blueway" trail.
The village is seeking a director for the project to better publicize the underwater preserves.
"The purpose is to make a presence in name of economic activity so divers come to the site," said Dave Decker, director of the Lake George Watershed Conference.
Decker is the interim director of the blueway project.
Near the sites, but on land, displays will be set up so people who aren't divers can learn about the hundreds of shipwrecks at the bottom of Lake George, and the history of the French and Indian War.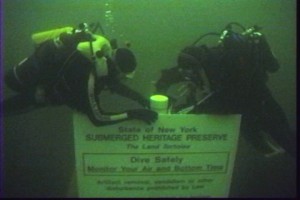 Posted via http://maritime-news.posterous.com Maritime-News posterous