gCaptain -
In a country already reeling from a ferry disaster that killed more than 200 people just months ago, 38 people have been confirmed dead and more than 100 remain missing as disaster struck for the second time off the coast of Zanzibar on Wednesday.
As gCaptain reported yesterday, the M/V Skagit capsized on Wednesday with an estimated 290 people on board, including as many as 30 children, when the vessel –quite possibly overcrowded– reportedly encountered some heavy weather while on a typical route from the city of Dar es Salaam on the Tanzania mainland to the island of Zanzibar.
According to the latest reports, 38 people have been confirmed killed and 145 have been rescued however bad weather has hampered rescue and recovery operations of the remaining passengers.
"Search operations continue but it is now almost impossible survivors will be found," Zanzibar police spokesman Mohamed Mhina told reporters.
"The weather was very bad, there were big waves and strong wind."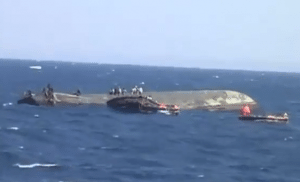 Posted via http://maritime-news.posterous.com Maritime-News posterous